African nations well represented at Olympic Opening Ceremony
Awash in symbolism, the Olympic Games began in PyeongChang with opening ceremonies focused on peace and reconciliation – the themes of these 2018 Winter Games.
The athletes took center stage with their national teams and flags during the Athletes Parade, with all eyes on Korean solidarity, while officials praised the Winter Games as one of the most inclusive ever.
"No less than six countries, including Singapore and Eritrea appeared at a Winter Opening Ceremony for the very first time, making PyeongChang 2018 one of the most diverse Winter Games in history," the official statement said, "with no shortage of inspiring stories of feats of human endeavour against the odds that the Olympic stage always inspires."
Greece led the way in keeping with tradition, followed by Ghana and Nigeria as the athletes entered the Olympic Stadium.  "Normal protocol dictates that the honor of being the final (country) to enter the stadium falls to the host nation," the Olympics said. "However, in PyeongChang, the Republic of Korea delegation was joined by their counterparts from neighboring Democratic Republic of Korea, marching together as Korea in a hugely powerful act of the Olympic spirit's ability to engender camaraderie and peace."
Peace was reflected in the architecture of the stadium, which was built in geometric forms that represent heaven, earth and mankind. The Korean tradition of the ancient Bell of Peace served as a focal point of the ceremonies, as did the "Children of Peace" and a choir program, candles, a video and more.
Then to open the Winter Games, Korean Olympic figure skating champion Yuna Kim lit the cauldron.
There are 12 competitors representing eight African nations competing at these Winter Games. Some have grabbed their well-deserved share of headlines – the Nigerian women's bobsled team has gotten a lot of attention – but athletes representing Madagascar, Togo and elsewhere are in the mix too.
Here's the short list for the Games as athletes representing Africans take the world stage:
Eritrea
Shannon Abeda, 21, will be competing in Men's Alpine Skiiing, Men's Giant Slalom and Men's Slalom. Born in Canada to Eritrean parents, he is the first athlete to represent Eritrea at an Olympic Winter Games and carried the flag during opening ceremonies.
Ghana
Akwasi Frimpong, 31, will represent his native Ghana in the Men's Skeleton bobsled competition. "It was like going through a canyon on a motorcycle with no speed limit; it was like dancing with the ice," he says of the sport. "I set myself the goal of becoming the first African to win a medal in Winter Olympic history."
Kenya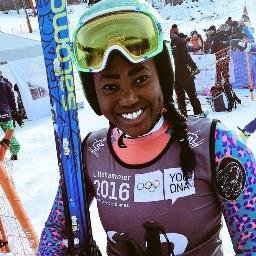 Sabrina Simader, 19, will compete in Ladies Alpine Skiing. She's been skiing since she was 3 and living in Austria, and began competing in 2003. Last year, she became the first alpine skier to represent Kenya at the world championships in Switzerland. "My mother is from Kenya, my family is from Kenya. I never want to leave my motherland," she says. "It was my step-father's dream to have a Kenyan (in the Winter Olympics). And mine, too."
Madagascar
Mialitiana Clerc, 16, will represent her native Madagascar in Ladies Alpine Skiing. Called Mia, she began competitive skiing at age 9. "I like sliding sports, that is my passion," says Clerc, who lives in France. "And I love the mountain environment."
Morocco (2)
Adam Lamhamedi, 22, will compete in Men's Alpine Skiing, while 40-year-old Samir Azzimani will represent Morocco in Men's Cross-Country Skiing. Azzimani, who carried the flag as the country's sole representative at the 2010 Olympic Winter Games in Vancouver, says he hopes to inspire a new generation of Moroccan winter sport athletes. Lamhamedi is a dual Moroccan-Canadian citizen who became the first alpine skier representing an African nation to win gold at the Winter Youth Olympic Games in 2012, and he's now making his full-fledged Olympic debut.
Nigeria (3) 
Akuomo Omeoga, 25, and Moriam Seun Adigun, 31, in Women's Bobsled, and Simidele Adeagbo in Women's Skeleton, carried the Nigerian flag in PyeongChang. They represent the first-ever delegation of Nigerian athletes to compete at an Olympic Winter Games, and the first bobsled athletes from any African nation to compete at the Games. Adigun began to build the team in 2016, with Omeoga saying it "came out of the blue" but was something she wanted to learn. The 36-year-old Adeagbo, a Nigerian living in Johannesburg, joined their quest to leave a legacy for future athletes and make African history.
South Africa
Connor Wilson, 21, will compete in Men's Alpine Skiing. At home in Johannesburg he often trains at the Afriski Mountain Resort in Lesotho, and while studying at the University of Vermont in the United States he trains at the nearby Mount Mansfield Ski Club.
Togo (2)
Alessia Afi Dipol, 22, will again represent Togo in Ladies Alpine Skiing after previously serving as flagbearer at the 2014 Winter Olympic Games at Sochi. Her teammate Mathilde-Amivi Petitjean, 23, who was born in Togo but grew up in France, will compete in Ladies Cross-Country Skiing.
To learn more about any of the 2018 Winter Olympics athletes, check this link.
Image: Samir Azzimani, Morocco; Sabrina Simader, Kenya