Eight Kenyan journalists quit Nation, citing 'state capture of the media'
Eight journalists working for The Nation in Kenya resigned together on Tuesday in a collective decision meant to protest the lack of journalistic freedom, and actions that "suggest state capture" of the media outlet.
"Just wanted to say that this was a very hard decision for me, not just because I loved writing my column but also I felt that I was speaking for those who do not have the privilege of this platform," said Rasna Warah. She joined fellow columnist and international human rights expert Maina Kiai; George Kegoro, executive director of Kenya's Human Rights Commission; Gabriel Dolan, and others in submitting their resignations to The Nation Media Group.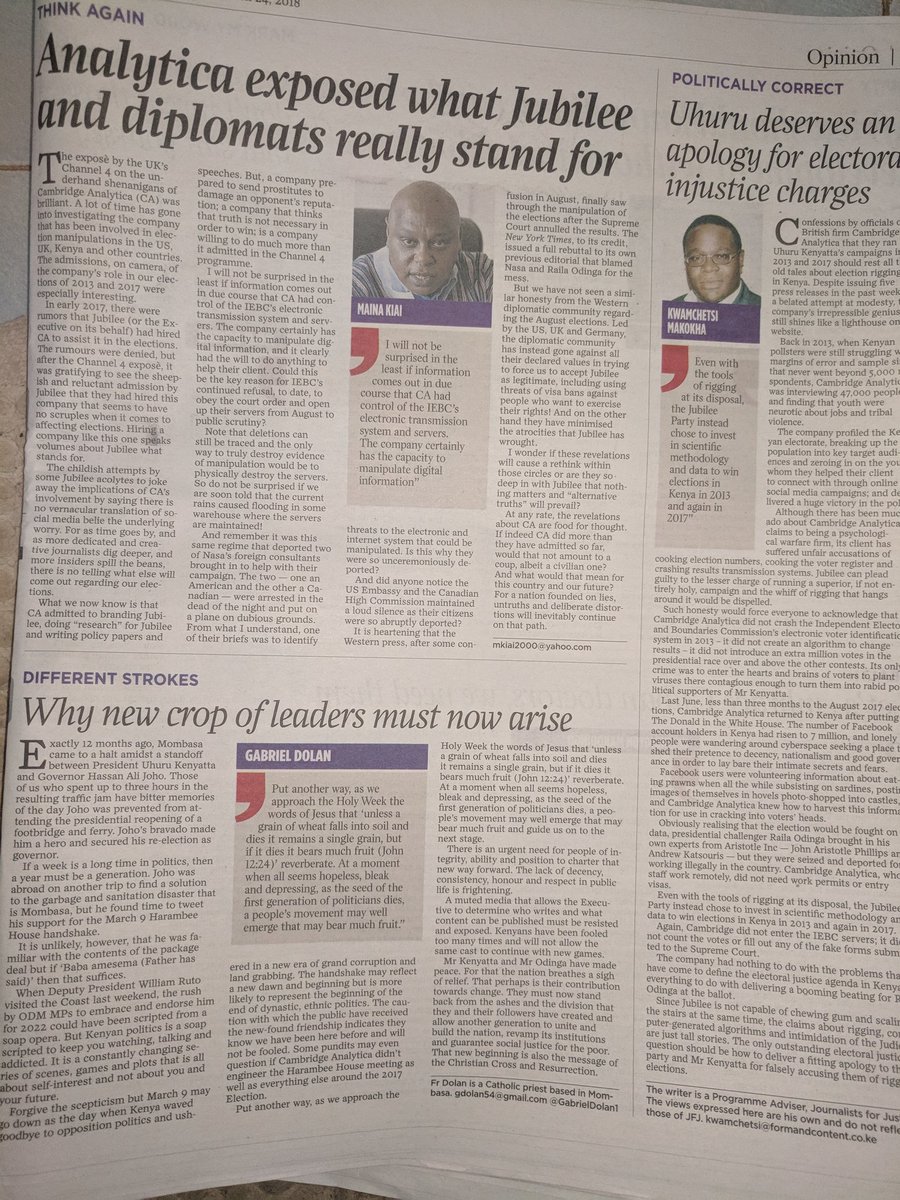 "Two years ago, a number of us wrote to the NMG's board of directors in an act of good faith to express our concern about what we saw as a systematic process to constrain independent voices within the company, contrary to its stated editorial policy to promote diversity and freedom of the media," the journalists' letter said. "We feared the legitimacy of the NMG as a credible source of truth was being undermined by its management's failure or refusal to safeguard the operational independence of professionals in its employ."
Media freedom as a public good is all the more significant in a democracy with weakened institutions that are under threat, as has been the recent case in Kenya, they said.
Earlier this month, columnist David Ndii was finally notified that he had been removed, reportedly as part of negotiations to restore broadcast media privileges after a government ban on coverage of Raila Odinga, the unsuccessful Nasa coalition challenger to President Uhuru Kenyatta last year.
"It's taken writing to the NMG Chairman to be told they've axed my column— and even then they don't have the guts to say it straight," Ndii said.
The media house responded Tuesday evening in a statement that expressed regret over the columnists' decision. "NMG was founded more than a half a century ago on the bedrock of independent voices, diversity and freedom of expression," the company said. "We believe that the principles of independence, fairness and balance, as espoused in our editorial policy, are key to promoting the democratic space while being mindful of the impact that information in the public space plays in shaping opinions."
Images: Daily Nation, Gabriel Dolan