India, with an eye toward Africa
Sushma Swaraj of India is one of five foreign ministers meeting in Pretoria this week as the BRICS ministers convene ahead of the full summit in Johannesburg in July. On her way to the meeting, she stopped in Mauritius to visit Prime Minister Pravind Kumar Jugnauth, affirming their close cultural ties but also demonstrating once again India's interest in an expanded presence in Africa.
"BRICS brings together almost 42 percent of global population, with impressive growth, investment and trade share," Swaraj said. "BRICS meetings are keenly watched world over and our decisions have profound impact globally."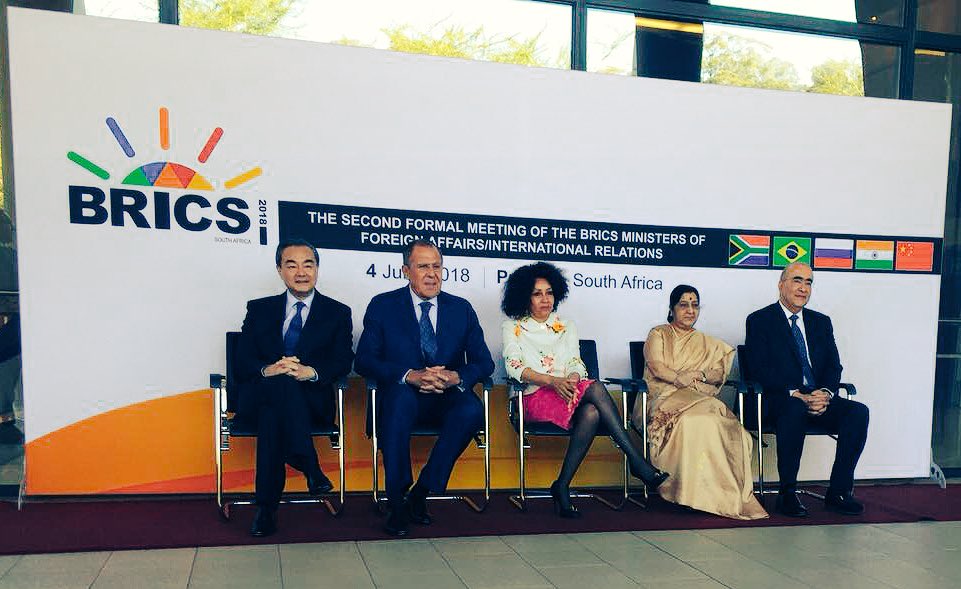 The Swaraj trek has the high visibility of the BRICS summit as its framework, but it continues the expansive approach on African engagement that India has stepped up in recent years. Visits from President Ram Nath Kovind have included Zambia, Equatorial Guinea and Swaziland in April, and Mauritius and Madagascar in March.
Kovind also made state visits to Djibouti and Ethiopia last October, in each case emphasizing the priority that Indian Prime Minister Narendra Modi – who went to four nations himself in 2016 – has placed on the continent. That emerging influence becomes all the more important as China, with its longstanding economic investment in Africa, spars with the United States over its role.
Modi's focus at Shangri La
Modi made clear India's interest on Friday during his keynote address to the Shangri La Dialogue, held in Singapore. Ministers and delegates from more than 50 countries who attended the security conference heard him speak about the need for a multi-polar world, a vision Modi discussed with President Vladimir Putin of Russia during a May summit in Sochi. On China, Modi spoke of the layers in their relationship.
"We are the world's two most populous countries and among the fastest growing major economies," Modi said, noting New Delhi's 8 percent growth rate. "Our cooperation is expanding. Trade is growing. And, we have displayed maturity and wisdom in managing issues and ensuring a peaceful border."
While Modi highlighted the BRICS relationships, his description of global unity encompassed the United States, the ASEAN nations and, of course, the growing partnership he has championed with the African continent. What Modi included in his remarks wasn't just trade data, but an appeal for relationship.
"Connectivity is vital. It does more than enhance trade and prosperity. It unites a region," he said. "There are many connectivity initiatives in the region," he said, noting rather pointedly that placing nations under "impossible" debt burdens – often a critique of China-Africa relations – isn't the goal.
"If these have to succeed, we must not only build infrastructure, we must also build bridges of trust," he added. "And for that, these initiatives must be based on respect for sovereignty and territorial integrity, consultation, good governance, transparency, viability and sustainability." The Indian prime minister said his nation is ready to work with everyone, to promote trade rather than strategic competition.
It remains to be seen whether policies rooted in the empowerment espoused by Modi will translate into concrete realities on the African continent, but it was clear he was intentionally differentiating the "Indian way" from that of either China or the United States, whose self-interest is viewed skeptically.
India's investment in African development
In the meantime, India has been stepping up its diplomatic and economic ties with African nations, including the recent effort to re-establish ties with Libya broken by the 2011 fall of Muammar Gaddafi. While in Equatorial Guinea, Kovind announced the Indian government will open an embassy in Malabo. It's one of 18 new African embassies, from Burkina Faso to Somalia to Swaziland,  that the Indian government plans to open by 2021. All told, India will then have a permanent mission and presence in 47 of the continent's nations, dramatically increasing its footprint and its accessibility. In Cameroon, for example, that may mean a shift beyond India's existing support of agricultural projects.
South Africa, where a new Mahindra auto assembly plant opened last week, is seeing a USD$4 billion investment from some 140 Indian companies surveyed, although there are many more. Mozambique, currently the largest recipient of Indian investment, is expected to see $13 billion in the next 10 years.
Next year, as part of the 150th anniversary celebrations of Mahatma Gandhi, India is launching a plan to help build grant-funded convention centers in nearly two dozen countries beginning with Niger. The center in Niamey is expected to be completed in time for the city to host the African Union Summit. Similar facilities are in the works first for Uganda, Malawi, Zambia, Liberia, Gambia, Burkina Faso, Togo and Gabon, and later in the remaining nations according to evolving priorities and relationships.
India may look like it's taking a page from China, or to a lesser degree Turkey, as it moves forward with aggressive plans to build infrastructure and increase investment. Modi's government is careful to distance itself from the Chinese model, which is often viewed as predatory and rooted in the lack of equality among partners.  Yet he too builds on the shared history – as in the case of South Africa – of the struggle against colonialism, and the common experience and values of emerging Global South nations.
As the BRICS ministers sit down to the table in Pretoria, and all the more so next month during the full summit, it'll be worth watching how India expresses the "African priority" that Modi has established. With so much attention on the diplomacy and development investments of China, the U.S. and the European Union, it's easy to overlook the growing engagement of India, or for that matter Russia or Japan or some of the Gulf states, when it comes to African influence. Now is the time to pay attention, because India is on the move.
Images: Government of India