Uganda's Bobi Wine says police killed his driver in campaign-rally clash
Popular Ugandan musician Bobi Wine – an opposition MP whose real name is Robert Kyagulanyi – is reporting his vehicle came under police gunfire in the town of Arua, leaving his driver dead.
Wine sent a Twitter message, with a graphic image he identified as the shooting, after the incident late Monday, adding that his hotel was surrounded by security forces. Wine has been the target of death threats before, including episodes with grenades thrown at his Magere home last year.
The Daily Monitor in Uganda confirmed that security forces fired live rounds at opposition protesters in Arua, a town in the nation's northwest not far from the border with the Democratic Republic of Congo.
They were coming from different candidate rallies ahead of an MP election to be held on Wednesday when clashes between marching groups followed. The incident escalated into stone throwing and gunfire, with Wine's driver Yasin Kawuma reportedly hit.
NTV Uganda also confirmed the shooting but said they had lost touch with their reporter in the scuffle. There are additional reports that President Yoweri Museveni's vehicle also was damaged in Arua, where he campaigned Monday on behalf of Nusura Tiperu, the National Resistance Movement candidate.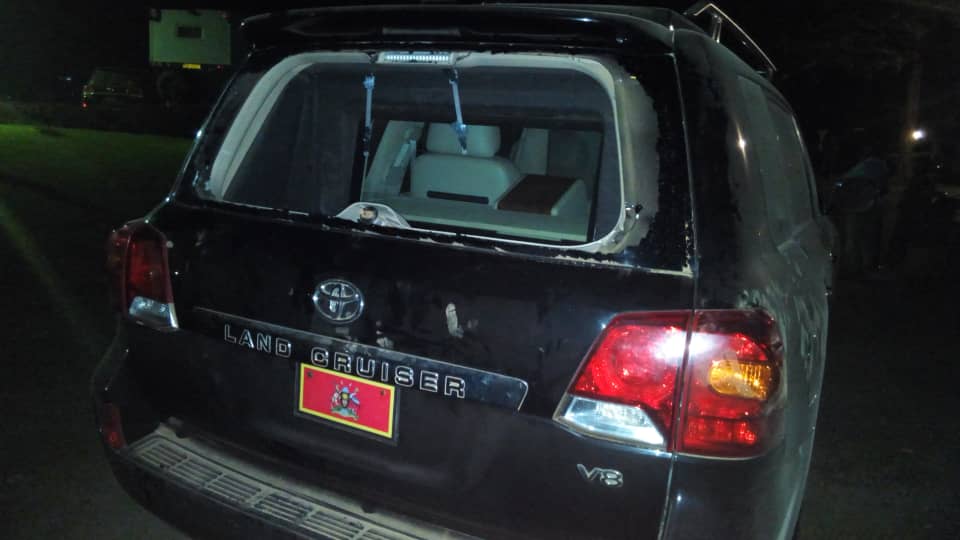 "The police will issue a statement on this incident shortly," said Museveni press secretary Don Wanyama, in a post with images that appeared to show the vehicle damage.
Wine represents the Kyadondo East region in Kampala, a seat he won in June 2017 elections, and traveled to Arua to campaign for independent candidate Kassiano Wadri. He shared images of marches and rallies prior to the Monday night violence.
"For us to defeat President Museveni, it will take more than one political party, more than one tribe, more than one religion and yes, more than one generation," Wine said, throwing his weight behind Wadri.
Wine was an outspoken leader against Museveni during last year's age-limit debate in parliament, and the center of controversy after he said he refused a bribe to ensure the aging Museveni could run again. The Ugandan president will turn 74 on Wednesday.
Images: Bobi Wine, Don Wanyama