Vietnam begins two-day funeral honors for President Quang
Funeral services were held in Hanoi on Wednesday to honor President Tran Dai Quang of Vietnam, who died on Friday after a serious illness. He was 62.
The ceremonies began at 7 a.m. local time, with Acting President Dang Thi Ngoc Thinh burning ceremonial incense and leading state officials to pay respects. The Vietnamese also are holding a two-day national period of mourning through Thursday.
Quang served as president since 2016, and was the subject of much criticism over human rights concerns as the former security officer's administration cracked down on political opposition. Yet he also reached out to advance Vietnam's interests on state visits that included his recent travels to Africa.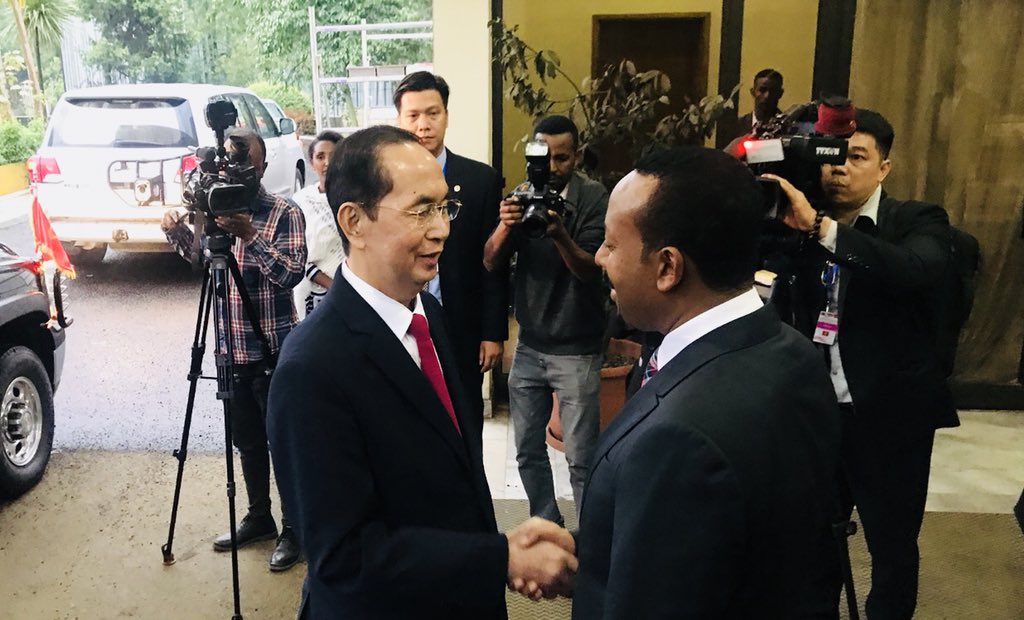 The Vietnamese president's meetings in Ethiopia in August were the first for a head of state since 1976, when Vietnam and Ethiopia established diplomatic ties. The countries agreed to strengthen those ties in agriculture, trade, investment and human capital, according to the Ethiopian prime minister's office.
On August 24, Quang and his delegation visited the African Union to discuss cooperation with Africa.
Quang then went to Egypt, meeting with President Abdel-Fattah El-Sisi in Cairo after visiting Luxor. Quang's visit to Egypt was a first in the 55 years the two nations have had diplomatic relations. Trade was top of mind during that visit too, as Quang sought to boost Vietnam's visibility on the continent.
After memorials at the National Funeral Home in the capital, Quang will be buried on Thursday in his hometown in Ninh Binh Province. He is survived by his wife, Nguyen Thi Hien, and two children.
Images: Governments of Vietnam, Ethiopia