There's mounting concern for Africa's exposure to new coronavirus
As the world waits for additional guidance from the World Health Organization (WHO) on the fast-moving coronavirus outbreak centered in China, the number of cases continued to mount – as did concerns over the African continent, with its close ties to Beijing.
"Has Ethiopian Airlines started screening passengers flying from Wuhan and other Chinese cities where the novel coronavirus 2019 outbreak has been documented?" asked Dr. Senait Fisseha, an Ethiopian advisor to WHO Director General Tedros Adhanom Ghebreyesus working in the United States. "The risk of spread of this highly contagious virus to Africa is very high given the large number of flights and people that fly through Addis."
WHO convened the emergency IHR committee Wednesday to discuss declaration of a Public Health Emergency of International Concern (PHEIC), a designation for an "extraordinary event" with the potential for international disease spread. It presents a public health risk that requires immediate international action and a coordinated response among nations.
WHO's decision is to wait for more information and revisit the PHEIC designation on Thursday.
While there is no immediate cause for panic, the new coronavirus (2019-nCoV) is spreading quickly across China, with 549 confirmed cases and 17 fatalities reported as of Wednesday at 11 p.m. local time in Beijing. A real-time dashboard is available for monitoring cases in China, which have spread rapidly from the original market in Wuhan where Chinese authorities say illegal wildlife sales likely brought animals, and the virus, into human contact. Chinese researchers just released a paper that suggests snakes are the most likely source, while a second paper finds it's bats.
Those cases began in late December, but epidemiologists began to see human-to-human transmission that rapidly multiplied the coronavirus cases in recent days. That scenario is not helped by the looming Lunar New Year festivities, when millions of Chinese travel within – or to and from – the country. Officials have sealed off all transit and effectively quarantined Wuhan, a city of about 10 million, beginning at 10 a.m. local time Thursday, as patients crowd into hospitals with strained staff and resources.
The head of China's Center for Disease Control, Gao Fu, said 2019-nCoV appears to be adapting and mutating in ways that make controlling the outbreak more challenging, although it does not yet seem to be as dangerous as SARS and other known coronavirus outbreaks.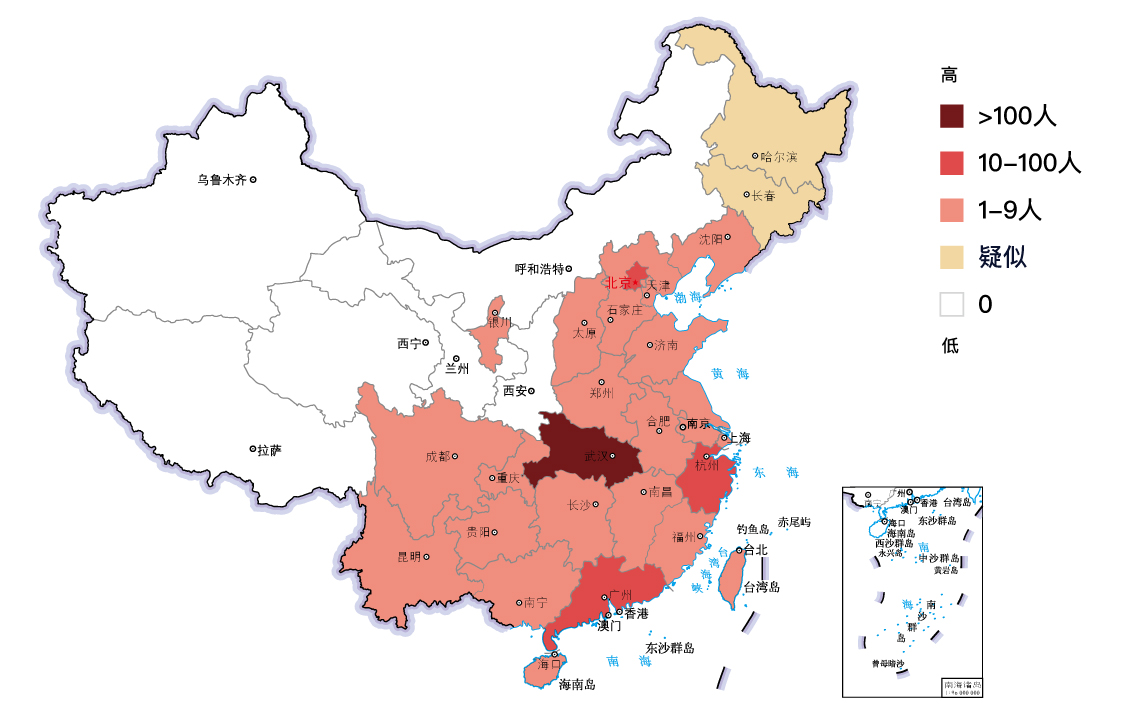 Wuhan is in the country's interior, but China now has confirmed and suspected cases in provinces along its entire eastern coast, in key international travel hubs like Beijing and Shanghai, as is true in Macau, Hong Kong and Taiwan.
Thailand and Japan were among the first new nations reporting 2019-nCoV, but they now include confirmed or suspected cases in the United States, Mexico, Russia, Brazil – and there is concern that African nations may be vulnerable, particularly given that the virus has an estimated but unknown incubation period of up to 14 days, and may be present before screening at airports began.
Most of the top destinations from Wuhan Tianhe airport are in Asia, with the exception of two Australian airports and one in Dubai, United Arab Emirates, according to a rapid report for the Journal of Travel Medicine. Dubai has long served as a travel hub for passengers to and from the African continent, surpassed only by Addis Ababa in 2018. Among others, Air China operates flights between Shenzhen and Johannesburg, while China Southern flies between Nairobi and Shenzhen, according to Forward Keys industry analysts.
Yet as it becomes more clear that multiple Chinese cities are impacted, the international travel between them and the African continent raises questions over more cities and destinations. The EcoHealth Alliance offers an interactive air travel mapping tool that shows routine flights from Beijing to Addis Ababa, Cairo and other locations, as well as originating flights in other Chinese cities and their passenger destinations.
South Africa's National Institute for Communicable Diseases (NICD) is monitoring the situation, but – as is the case around the world – the 2019-nCoV outbreak is evolving so rapidly that yesterday's update is no longer accurate.
Nigeria and its Center for Disease Control also is monitoring the virus, while urging citizens to remain calm.
"The Port Health Services unit of the Federal Ministry of Health in Nigeria has been placed on high alert and has heightened screening measures at the points of entry," the government said. "Information will be shared with the public as it becomes available."
Egyptian health officials also have put entry points on high alert, as did Kenya. "The Ministry of Health has heightened surveillance at all ports of entry and is screening passengers for coronavirus," the Nairobi government said on Wednesday. "An alert has also been sent to all 47 counties through the directors of health and Kenya's governors."
Elsewhere, the European Union's Center for Disease Prevention and Control issued an updated assessment, warning that the potential for impacts from 2019-nCoV remains high and further spread of the virus is likely.
"The original source of the outbreak remains unknown and therefore further cases and deaths are expected in Wuhan, and in China," the EU said. That may mean cases in EU nations, though "there are considerable uncertainties in assessing the risk of this event, due to lack of detailed epidemiological analyses."
Scientists across the globe are working together to understand the coronavirus and how to develop a response, but much remains unknown – all the more reason for Africans, and other global citizens, to consider practicing routine health precautions until more information is available.
Images: Lilac Garden, Government of Hubei