Tanzanian-flagged 'ghost ship' washes up in Ireland
In October 2018, it was the impending storm Leslie that forced a decision to rescue 10 crew members and abandon the MV Alta, a Tanzanian-flagged ship with disabled engines floating adrift in the Atlantic Ocean. On Sunday, it was the unusually powerful Storm Dennis that finally forced the "ghost ship" ashore, according to the Irish Coast Guard.
"Rescue 117 was tasked earlier today to a vessel aground near Ballycotton, Cork," the agency said, referring to a rocky tip on the southern coast of Ireland. "There was nobody on board."
That ends the mystery of what became of the Alta, which was reported adrift on September 13, 2018, some 1,300 miles southeast of Bermuda during a journey from Greece to Haiti.
The United States Coast Guard had already dropped supplies to the Alta, according to the Hellenic Shipping News, when the decision was made to evacuate the crew. There had been no success in contracting tugboat services and Leslie – a rare storm that meandered three weeks before heading east and striking Portugal – had become a growing threat.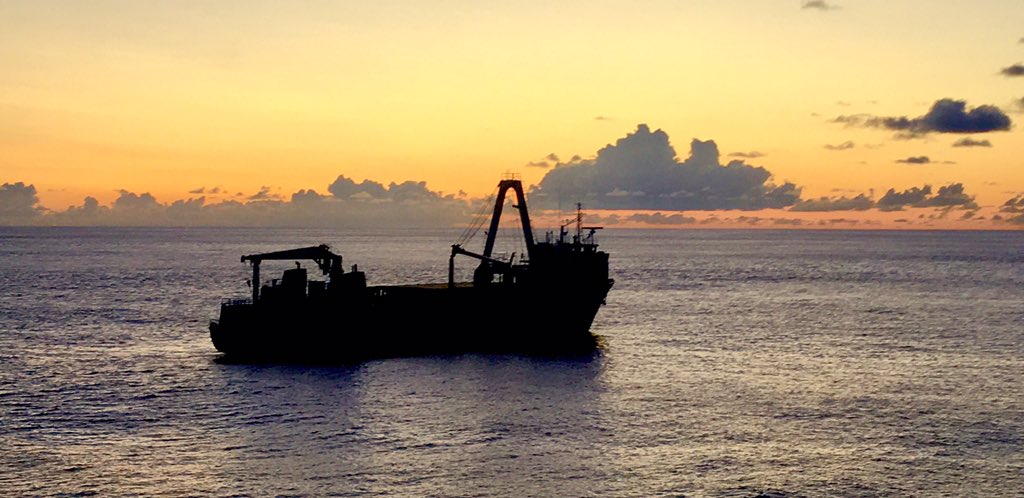 The Alta was spotted once in August 2019 by the British Royal Navy ship HMS Protector, which said it was mystified when it saw the abandoned merchant vessel, right, floating in the mid-Atlantic.
"We closed the vessel to make contact and offer our assistance, but no one replied!" the ship's crew said in a tweet. "Whilst investigations continue we're unable to give you more detail on this strange event."
That was the last of the Alta until the "ghost ship" washed up at the weekend, amid high winds and heavy seas that brought extensive damage to Wales in the southwestern UK. The storm (actually two that merged) dropped to a pressure of 920 mb south of Iceland, a near-record low for the North Atlantic that's more commonly seen in Category 4 or 5 hurricanes.
Images: Irish Coast Guard, HMS Protector